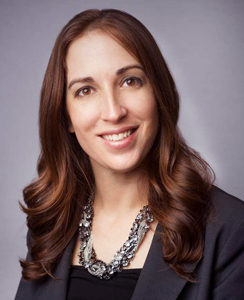 Tzvia is a recognized expert in the complex world of employee benefits providing sound, practical business advice to her clients.
Education:
J.D. - University of California, Los Angeles School of Law; B.A. (summa cum laude) – Touro College
Licensing:
New Jersey; New York; California (inactive)
Courts : District of New Jersey, Southern District of New York, Eastern District of New York
Tzvia has worked exclusively in the area of employee benefits for over 15 years advising Fortune 500 companies, other public and private companies, not-for-profit organizations and municipalities on all aspects of pension and welfare benefit plans.Tzvia's practice involves counseling clients on the design, implementation and operation of 401(k), defined benefit, self-insured and fully-insured medical, life and disability plans. She also advises on cafeteria plans, health savings account plans, flexible spending account programs, severance plans and other compensation and benefit arrangements. Tzvia provides advice on compliance with a variety of laws, including ERISA, the Internal Revenue Code, COBRA and the Affordable Care Act. She also negotiates service provider agreements and prepares and advises on benefit claims and fiduciary issues, participant communications, and qualified domestic relations orders.In addition, Tzvia has extensive experience advising clients with HIPAA Privacy and Security Rule compliance, including the negotiation of business associate agreements, drafting of policies and procedures, advising on data breaches, and training of staff.  She also frequently assists clients with plan corrections under the IRS' correction programs.
Personal Information:
Tzvia was most recently a senior associate in the employee benefits practice center of Proskauer Rose LLP.Tzvia was once an associate at Cohen, Weiss and Simon LLC and Reich, Adell, & Cvitan PLC, where she represented multiemployer pension and welfare plans on compliance matters, delinquent contributions and other ERISA litigation.Outside of work, Tzvia is an avid runner and fundraises for various charities by participating in sponsored races.
Contact Tzvia: